6-3 KW High Frequency on grid solar inverter
Introduction
PH5000 series PV inverters take full account of the needs of end customers, with excellent performance at the same time, use LED as inverter status display, effectively improve product life. Using DSP digital control,could afford wide grid voltage range, have a full range of protection features; to maximize the benets at the same time, greatly enhance the reliability of the product.
FEATURES
High Frequency On Grid Solar Inverter

Pure sine wave output

Rate power: 6-3KW

MPPT eciency up to %99.50

Congurable AC/Solar input priority via LCD setting

Multiple communications: USB,WIFI etc

Monitoring inverters freely via mobile phonese APP

Fanless low-noise design

• IP65 water-proof and dust-proof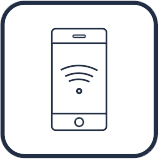 INVERTER SYSTEM CONNECTION
This inverter adopts cutting-edge technology in photovoltaic fields. Higher conversion efficiency and lower energy losses are guaranteed to maximize satisfaction. With its reliable power grid support and high protective class, the ph5000 series is compatible with different types of branded solar panels and is also ideal for commercial rooftop systems. The safe and reliable series is the first choice for residential, commercial installation and power plants.
Solar Inverter System Connection:
Power Inverter + Battery + Solar Panels + Grid + Applicaiton Loads
MODEL

PH2500-50

PH3000-50

PH3600-50M

PH4200-50M

PH4600-50M

PH5000-50M

PH6000-50M

RATED POWER(W)

2500

3000

3600

4200

4600

5000

6000

PV

INPUT(DC)

Maximum recommended

DC power(W)

2875

3450

4100

4800

5300

5750

7000

Nominal DC operating voltage(V)

360

Maximum DC voltage(V)

550

Start voltage(V)

100

MPPT voltage range(V)

550~80

Maximum input current(A)

11
11
11/11
11/11
11/11
11/11
11/11

No.of MPP tracker

1
2

Strings per MPP tracker

1

GRID

OUTPUT(AC)

Nominal AC output power(W)

2500
3000
3600
4200
4600
5000
6000

Maximum AC output power(VA)

2500
3000
3600
4200
4600
5000
6000

Nominal output voltage(V);range(V)

280-180;240/230/220

AC grid frequency(Hz);range(Hz)

65-55/55~45;60/50

Nominal output current(A)

10.9

13
15.7
18.3
20.0
21.8
26.1

Maximum output current(A)

11.4
13.7
16.4
19.1
21.0
22.8
27.3

Total harmonic distortion i(THDi)

<

%3

Power factor at rated power

1

Displacement power factor

0.8leading

~

0.8lagging

AC connection

Single phase

EFFICIENCY

Maximum efficiency

%97.2
%97.2
%97.4
%97.4
%97.4
%97.4
%97.4

Euro-efficiency

%96.8
%96.8
%97.0
%97.0
%97.0
%97.0
%97.0

MPPT efficiency

%99.5

Self-Consumption night(W)

<1

PROTECTION

DEVICES

DC reverse polarity protection

Yes




DC switch rating for each MPPT

Yes(opt.)

Output over current protection

Yes

Output overvoltage

protection-varistor

Yes

Ground fault monitoring

Yes

Grid monitoring

Yes

Integrated all-pole sensitive

leakage current

Yes

PHYSICAL

Dimension(W/H/D)(mm)

155*368*262

155*368*262

153*412*355

153*412*355

173*412*355

173*412*355

201*412*355

Net weight (kg)

10
10
13.5
13.5
14.5
14.5
16.5

INTERFACE

DC connection

H4/MC4

AC connection

Connector

Display

LED

Communication interfaces

Wi-Fi/USB/GPRS

ENVIRONMENT

Ingress protection rating

IP65

Humidity

%95~0 RH (No condensing)

Operating temperature range

25-

°C

~60+

°C

With derating above 45

°C

Cooling concept

Natural

Noise emission(typical)[dB]

≤

25

Altitude

<4000m

OTHERS

Topology

transformerless

Warranty

Standard 5years/10 years(opt.)

Certificatesand approvals

CE/IEC62109

CE/IEC62109

CE / IEC62109 / CQC